Contract readiness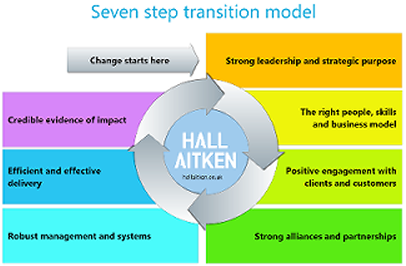 When our clients in the voluntary, charity or social economy (VCSE) sectors are bidding for funding contracts we help to strengthen their submissions.
Commissioners need to know that they are well governed, well managed, cost effective and that their work has a measurable positive impact. This means that VCSEs need to have the plans, skills, evaluation techniques and confidence to bid for and win contracts.
7-Step Transition model
Organisations in the public and VCSE sector often seek grant funding, new contracts or investment to grow. To grow in an increasingly competitive environment you often don't know what challenge to tackle first. We have identified the key themes that make up a strong organisation and included these in our 7-Step Transition model. These include:
Leadership and strategic purpose
The right people, skills and business model
Positive engagement with clients and customers
Strong alliances and partnership
Robust management and systems
Effective and efficient delivery
Credible evidence of impact
These seven steps have been developed from practice we have been involved in over many years. And this model is consistent with the demands of major funders and investors we have engaged with. When you complete the assessment, a report will highlight strengths and weaknesses. There are tools or guidance for most elements already developed either by us or publicly available from others that we can direct you to. We encourage you to review your position against these themes. The report will help you identify priority actions to strengthen your sustainability.
Try out the free demo version of our 7-Step diagnostic tool on our Indicate site.